POS system for services and craftsmen
Whether you run a hair or beauty salon, a massage or tattoo studio, or even a fitness center, the Elementary POS cash register system can be your invaluable business companion. It also works offline, which you'll appreciate if, for instance, you sell tickets to monuments, attractions, or children's centers and parks.
Any Android mobile or tablet can quickly transform into a user-friendly electronic cash register or complex point of sale system. No need to invest in expensive hardware. If your mobile device breaks, simply log in to Elementary POS on another device, and you can continue where you left off.
On the other hand, you can also create a complex cash register system with Elementary POS. The app communicates with a barcode reader, cash drawer, printer, or terminal. You can connect an unlimited number of devices and configure them as cash registers, customer displays, or order displays.
Elementary POS also offers you a stock management feature. It enables you to edit sales items, efficiently manage your inventory, and access detailed sales statistics.
You can enjoy all this and more at an affordable price. Plus, you can try Elementary POS for free, with absolutely no obligation.
Explore selected features for
services, craftsmen and freelancers
Easy to use and easy to sell
User-friendly cash register for your mobile phone or tablet
No need to purchase costly hardware. You can operate our mobile cash register on your Android phone or tablet. Installing our app is very simple and you can start selling within minutes.
Fast Selling Process
Forget unnecessary and perplexing clicks. Selling an item with Elementary POS takes you just 3 clicks. Swift and top-notch service leads to satisfied customers, which is a priority for every business owner.
Receipts
Print receipts using virtually any printer or send them to customers via e-mail.
Neomezený počet uživatelů a zařízení
Add limitless users and devices for a single price.
Offline sales
Use the cash register even without an internet connection. Upon reconnection, your sales data will automatically synchronize.
Diverse Payment Methods
Accept both cash and card payments. Connect to a payment terminal.
Customer Display
If needed, link a customer display to Elementary POS, allowing customers to preview their orders.
And other interesting features
You can connect a cash drawer to Elementary POS. If you prefer operating your cash register via a Sunmi or myPOS terminal rather than a phone or tablet, it's also an option with us.
Stock management and sales items
You can categorize your sales items for easier management. You can also take advantage of creating "item combinations" such as menus and recipes. Additionally, effective stock management is right at your fingertips. Through the virtual Back Office, you can perform bulk edits on sales items or do inventory whenever necessary. To ensure organized tracking and easy management, barcode scanner integration is available.
Overviews, Sales Data, and Reports
You'll find all your sales data neatly consolidated and fully under your supervision. Within Elementary POS, you can keep control of your sales, profit and loss calculations, as well as cash register records. Moreover, our finely-tuned reports offer valuable insights into your business.
Elementary POS enables you to add an unlimited number of users or employees, each with distinct permissions. You can easily track their sales and attendance. There are no additional charges for adding more users.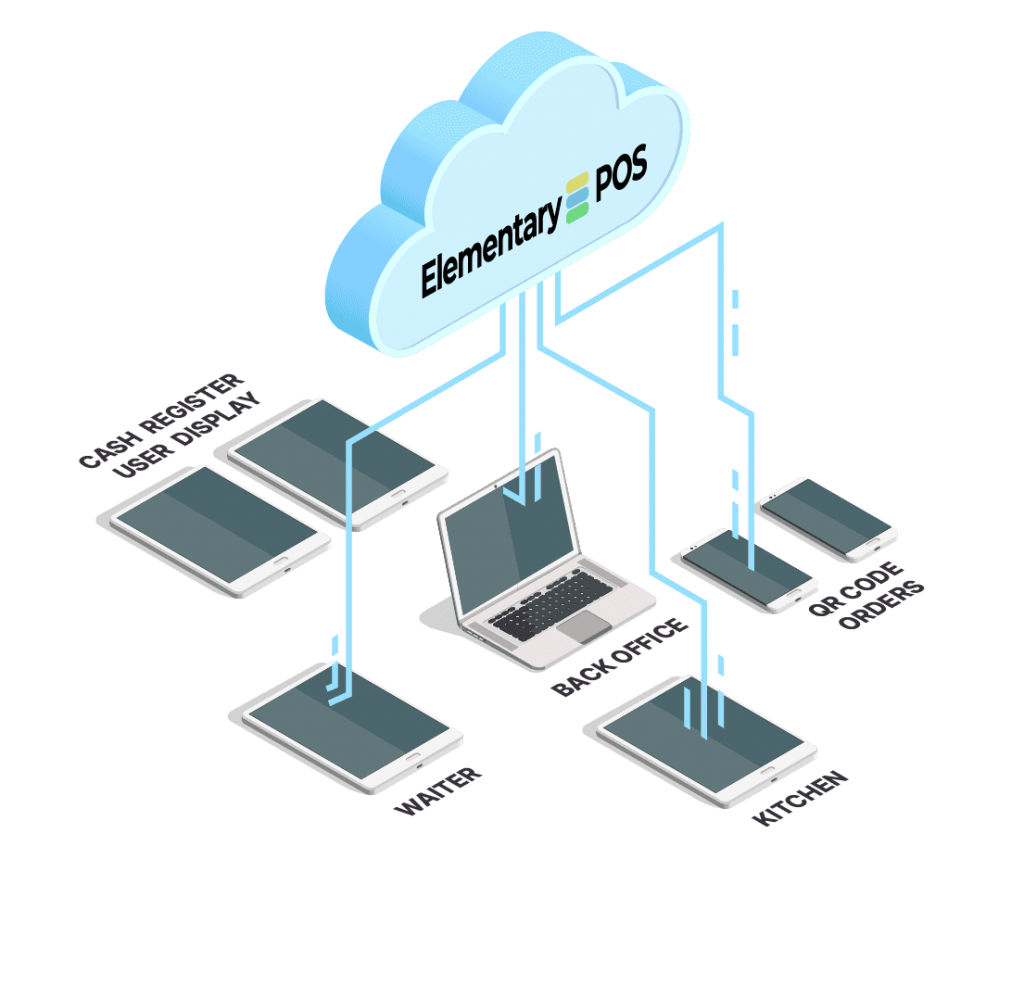 Elementary POS is compatible with different types of hardware
Our app can communicate with various external devices. You can connect it to multiple receipt printers (USB or Bluetooth), a cash drawer, a payment terminal, or a barcode scanner (Bluetooth or USB). In case you don't have or don't want to purchase a new barcode scanner, even an older Android phone will serve you well!