Mobile cash register for stand owners
Do you own a stand or a food truck? A portable mobile cash register is perfect for fast-paced conditions at concerts, exhibitions, festivals, markets, or fairs because it allows you to serve your customers in seconds. And that's precisely what Elementary POS, your trusty sales companion, can do for you.
Our app runs on any Android device, no need for expensive hardware, and it also functions offline.
You can connect the mobile cash register to a barcode scanner, cash drawer, printer, or terminal. An unlimited number of devices can be linked to a single account, and you can configure them as cash registers, customer displays, or order displays—all at one reasonable price.
Moreover, you can offer your customers the convenience of remote ordering via a QR code. They can place orders via their smartphones, and once ready, you can notify your customers through the pickup display.
But there's more! You'll also need to manage your stock, grant your accountant access to your sales data, or review it yourself. Elementary POS can assist you with all of this and more!
Explore selected features for stands, kiosks and food trucks
Simple Operation and Quick Selling
With Elementary POS, you can serve more customers without worry. And what can our app do for you?
Transform your mobile phone or tablet into a cash register
No need for expensive hardware. Install our mobile cash register on your Android phone or tablet – you can start selling within minutes.
Fast Sales Process
Selling an item takes just 3 clicks. Rapid service and customer satisfaction are paramount in stall sales.
Receipts
Print receipts on nearly any printer or send them via e-mail to your customers.
Unlimited Users and Devices
Add limitless users and devices for a single price.
Offline sales
Use the cash register even without an internet connection. Upon reconnection, your sales data will automatically synchronize.
Diverse Payment Methods
Accept both cash and card payments. Easily connect a payment terminal in just a few clicks
Customer Display
Set up a customer display at your stand effortlessly, simplifying your sales and improving your services towards your customers.
Cash Drawer Opening Feature
Quickly and easily connect a cash drawer
Interested in payment terminal connectivity?
Link Elementary POS with Sunmi or myPOS terminals – tested and lauded by numerous business owners like yourself!
Need to keep stock under control? Take a look at selected features to help you:
Real-time and user-friendly stock management

Access stock status with ease

Combine stock items (creates menus, such as fries and Coke)

Utilize barcodes to find items quickly
Import and export items
Bulk editing of stock items 
Keep stock items updated and accurate with inventory management
Sales Statistics and Reports
You will be in control of your sales. Everyone needs to know how the business is doing. And that's where our fine-tuned statistics come in. What will you find out?
Sales overview and cash journal

Advanced reports

Profit and loss calculation
In Elementary POS you can add unlimited number of users or employees. You can set different user permissions and track their sales. We have such gadgets in the application as well. And the best part is that everything comes at one price.
Option to add more employees (all for one price)
Sales by employees
Central sales control
User permissions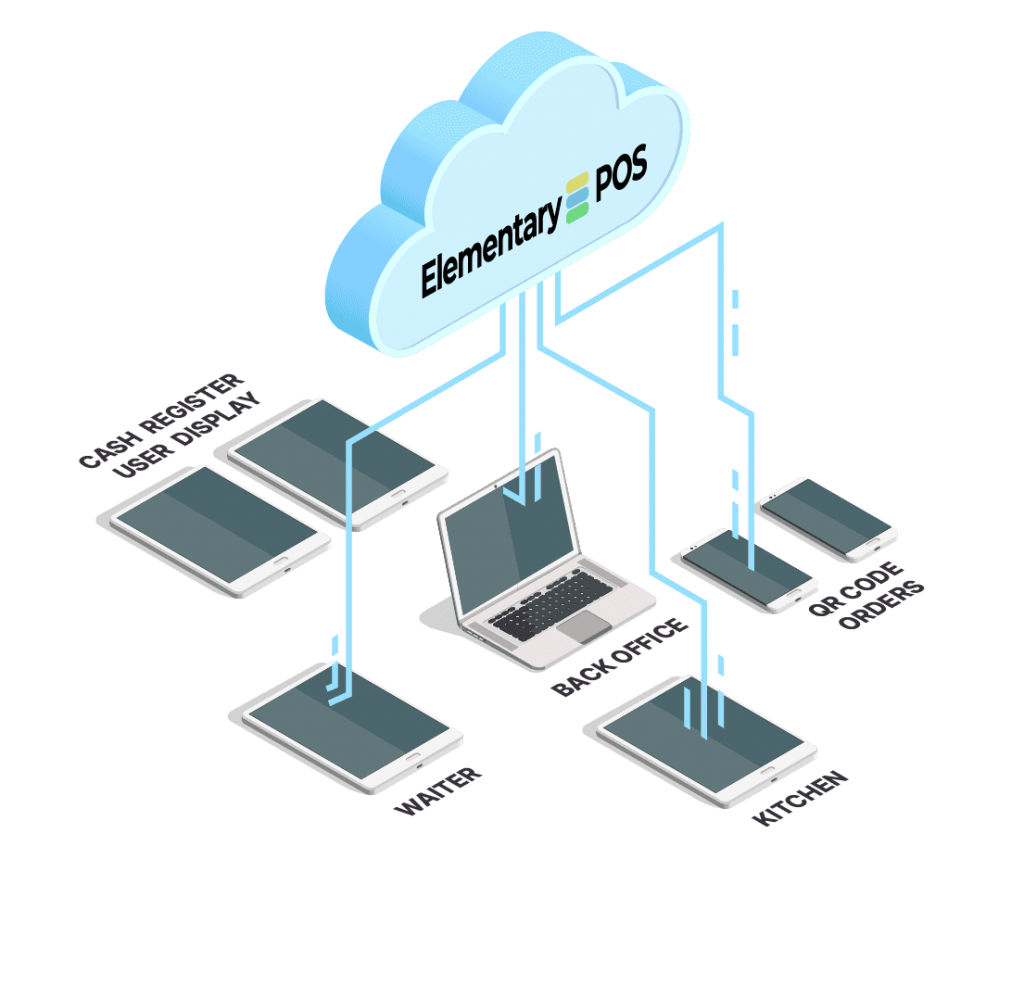 Elementary POS is compatible with different types of hardware
Our app can communicate with various external devices. You can connect it to multiple receipt printers (USB or Bluetooth), a cash drawer, a payment terminal, or a barcode scanner (Bluetooth or USB). In case you don't have or don't want to purchase a new barcode scanner, even an older Android phone will serve you well!