Elementary POS doesn't just provide you with a portable cash register, it can also give you access to custom exports of all your sales data to Excel. This fact is known by most users, however, we are aware that few of them are able to make full use of the different filters and ways to sort items in the excel sheets.
This article will provide a picture guide, showcasing the many ways you can customise or filter your reports. Your reports will always contain sales data across all users and devices connected to your account.
First things first. In order to access the reports, sign in to the Elementary POS Back Office and select "Sale" from the right side menu.
Premium features
Unlimited reports
The Premium tariff allows you to export unlimited data from your Elementary POS account. You have to have either the Admin or the Accountant role to access these features, but with Premium, you are able to export sales data from a specific period of time, a specific shift, user or device.
Sort your items based on a time-period
As you will be selecting the specifics of your export, you'll have an option to select a specific time frame and filter out only the transactions made in between two dates.
You are able to pick the dates from a drop-down calendar feature directly in the Back Office.
At the top of the report, you can see the total price that was paid to you for the items, both with and without taxes, as well as the quantity of items sold.
Take advantage of different filter options

The screenshots below will show you different ways in which you can filter your transactions in the report.
Filter by date
Filter by quantity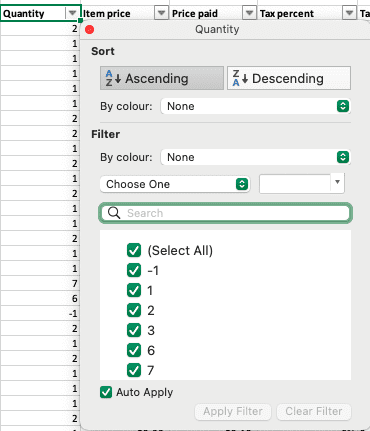 Filter by item name (text)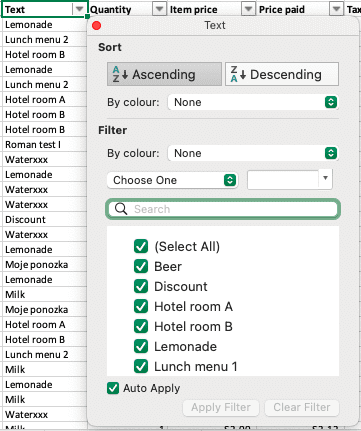 Filter by user who entered the transaction into the system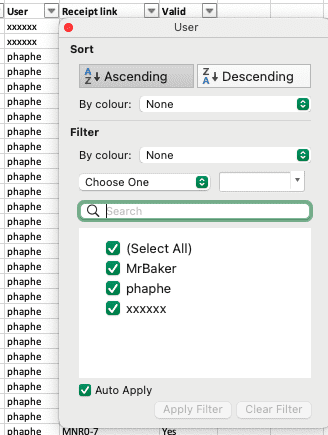 Filter by payment type (cash or card)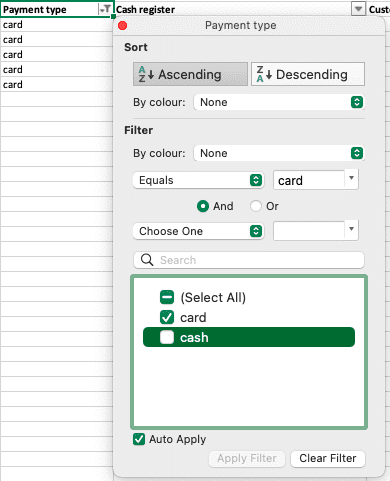 Use the tabs in the lower part of the Excel screen to see your items grouped by different categories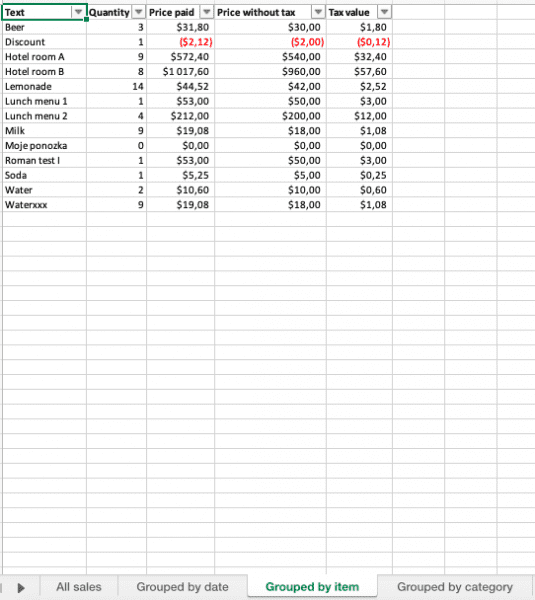 Search for a specific Receipt by its number.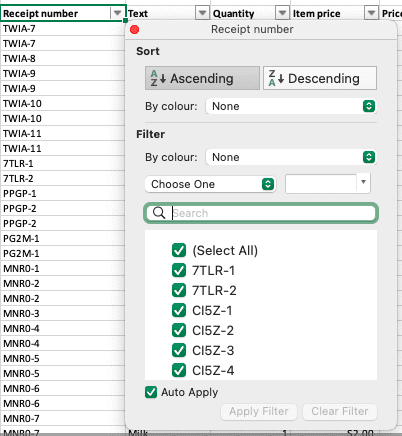 Free features
The export options are somewhat limited in the Free tariff of Elementary POS, but you can still make it work. The main rule you need to keep in mind: you can only export data from the last 24 hours.
Therefore, be sure to set a reminder to make your export every day after you close your store.
Other reports for selected time frames can be done also, but will only show the first 10 transactions.
Do you have any further questions or suggestions regarding reports in Elementary POS? Be sure to share them with us via support@elementarypos.com and we'll get back to you!