Being able to quickly add or remove multiple items from your stock is essential. With Elementary POS, you can now update multiple stock items simultaneously, eliminating the need for manual editing one by one in the Elementary POS Back Office. By exporting your entire stock into an Excel sheet, you can make bulk edits and effortlessly import the changes back into the system. This article provides a step-by-step guide to help you optimize your stock management process.
1. Access the Elementary POS Back Office website app and select Stock Status
On the right-hand side, adjacent to "Calculate sales," you'll find a new option labeled "Stock inventory." Click on this option to export your complete stock into an Excel sheet.

2. Download and open the Excel sheet
After that, you can modify the "Change in stock," "Purchase price," and "Note" columns. Please refrain from making any changes to other columns, as this will impede the file's import back into the Office.
To provide a practical example, let's say we want to stock up 10 additional bottles of "Fanta" lemonade. We entered the corresponding quantity in the "Change in stock" column:

3. Import the file
Upon importing the modified file back into the Office, the changes are automatically applied, and the "Current Stock Status" will reflect the updated information.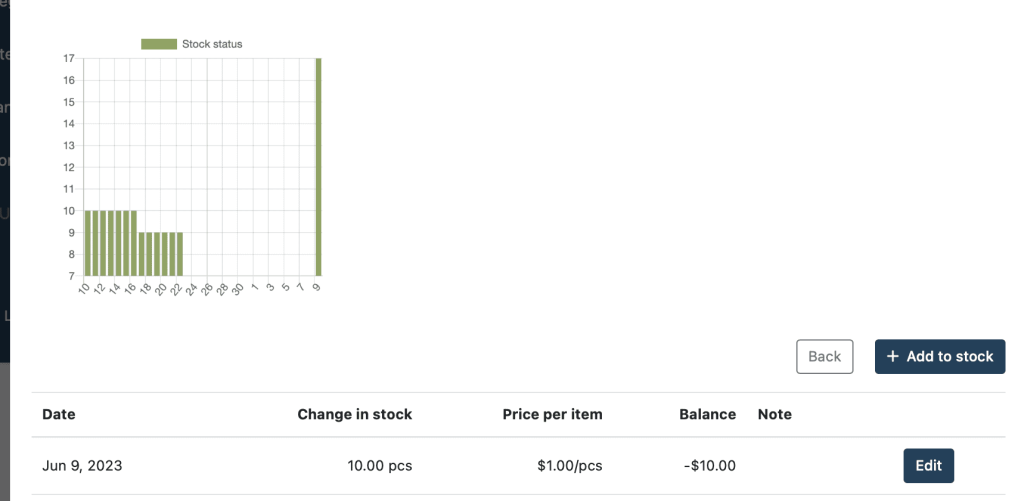 Removing items from stock
If you'd like an item removed from stock, enter a negative amount in the "Change in stock" column. The change will be reflected in the stock after you import the Excel file.
Missing items
If you identify missing items and would like to reflect it into your stock, enter a negative amount in the "Change in stock" column and enter "0" in the "Purchase price" column. It will be considered as a sale with 0 revenue, or a lost profit.
It's as simple as that! At Elementary POS, our aim is to continuously enhance your business management by introducing new features that make editing items and streamlining operations easier and faster. If you have any questions about Stock inventory or suggestions for additional features we should consider, please feel free to share your ideas with us at support@elementarypos.com. We value your input and look forward to hearing from you.