Print your receipt or invoice on small receipt printer or regular A4 printer.
There are several options for printing your receipt:
Small receipt printer via Bluetooth.
Small receipt printer via USB.
Regular A4 WIFI printer.
Regular A4 printer connected to your PC.
Or you can have paperless system without printing.
Print on a small Bluetooth printer
The simplest solution is to use Bluetooth Printer. It is a small portable device at the price of around 100 USD. The printer connection is wireless – there is no cable necessary. The Bluetooth printers usually have a battery included. This solution is simple and portable.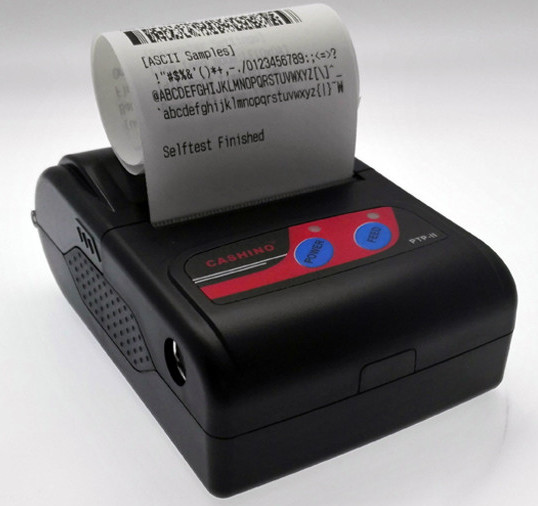 You can connect this type of printer with Elementary POS with these steps:
Open Elementary POS APP.
Open drawer menu (top left button).
"Settings" and "Printer settings".
Choose "Bluetooth".
Press "SELECT PRINTER".
If you do not see your printer, press "DISCOVER PRINTER". If APP asks for permission, allow all permissions. If you still do not see the printer, try to restart the printer or your device.
After selecting your printer, press "TEST PRINT". Enter the text and the printer should print your text.
Print on USB receipt printer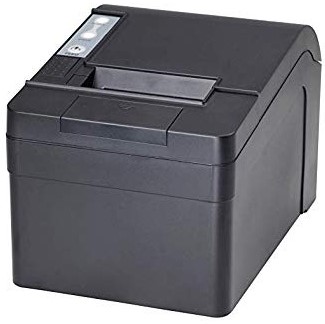 The reliable solution is to use USB Printer. In this case, you have to physically connect your printer to your tablet or mobile phone. Since your printer probably has USB-B -> USB cable, you need a simple USB cable adapter. This depends on what connector the cell phone has: USB-C or USB micro. Try to find a suitable adapter: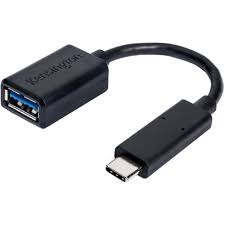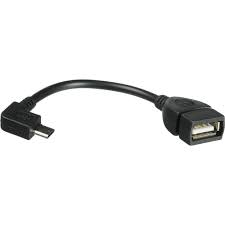 When you connect the printer, Elementary POS will show you the connection screen automatically. If not, please follow these steps:
Open Elementary POS APP.
Open drawer menu (top left button).
"Settings" and "Printer settings".
Choose "USB".
Press "SELECT PRINTER".
Some USB printers have the RJ12 connector for cash drawer. When a new receipt is created, the cash drawer can be opened automatically. To setup this, check "Open drawer" checkbox in the "Printer settings" screen.
How to print on a regular A4 printer
Elementary POS creates PDF receipt or invoice. You can print it as a common document. There are two options:
Print directly from your Android phone or tablet.
Print from your PC (web browser).
Print invoice directly from Android phone
Your printer must support WIFI and the printer must be connected to your local network. Your mobile phone must be on the same WIFI network. Follow your printer vendor instructions on how to install the appropriate driver. You do not need to setup anything in Elementary POS application. To print the receipt press the "PRINT" button on the receipt screen.
Print invoice from your PC
Since all your receipts are synchronized with Elementary POS Office, you can print the receipt from there. Go to Elementary POS Office and select "Last receipts" menu. This list is automatically refreshed – when a new receipt is created, you see the receipt immediately. Please click on "PDF print" to print your receipt or invoice.
Supported POS printers
If you can't find your printer, it doesn't mean it won't work.
3nStar RPT-008
Approx APPPOS80AM
AURES ODP-333
AURES ODP-500
Bematech-4200-TH
Bematech LR2000E
Birch PRP-085III
Bixolon SRP-350III
Bixolon SRP-350Plus
Black Copper BC-85AC
Cashino PTP II
CHD TH-305N
Citizen CBM1000-II
Citizen CT-S310II
Dapper-Geyi Q583P
Daruma DR800
DR-MP200
EC Line 5890x
EPOS TEP 220M
Elgin i9
Epson EU-T332C
Epson FX-890
Epson TM-T20
Epson TM-T20II
Epson TM-T70
Epson TM-T70II
Epson TM-T81
Epson TM-T82II
Epson TM-T88II
Epson TM-T88III
Epson TM-T88IV
Epson TM-T88V
Epson TM-U220
Epson TM-U295
Epson TM-U590
Epson TM-U590P
Equal EQ-IT-001 POS-58
Everycom EC-58
Excelvan HOP-E200
Excelvan HOP-E58
Excelvan HOP-E801
Excelvan ZJ-8220
Gainscha GP-2120TF
Gainscha GP-5890
Gainscha GP-U80300I
GP-U80300I
gprinter GP-U80160I
HOIN HOP-H58
Ithaca iTherm 28
Hasar HTP 250
Metapace T-1
Metapace T-25
Nexa PX700
Nyear NP100
OKI RT322
OKI 80 Plus III
Orient BTP-R580
P-822D
P85A-401
Partner Tech RP320
POSLIGNE ODP200H-III-G
POS-5890
QPOS Q58M
Rongta RP326US
Rongta RP58-U
Rongta RP80USE
SAM4S GIANT-100DB
Senor TP-100
Sewoo SLK-TS400
SEYPOS PRP-96
SEYPOS PRP-300
SNBC BTP-R880NPIII
Solux SX-TP-88300
Sicar POS-80
Silicon SP-201 RP80USE
SPRT SP-POS88V
Star BSC10
Star TSP100 ECO
Star TSP100III FuturePRNT
Star TSP-650
Star TUP-592
TVS RP45 Shoppe
TYSSO PRP-300
Venus V248T
Xeumior SM-8330
Xprinter F-900
Xprinter XP-365B
Xprinter XP-58 Series
Xprinter XP-58K
Xprinter XP-80C
Xprinter XP-90
XPrinter XP-Q20011
Xprinter XP-Q800
Zjiang NT-58H
Zjiang ZJ-5870
Zjiang ZJ-5890
Zjiang ZJ-8220
Zjiang ZJ-8250
ZJ-5890K
ZJ-5890T